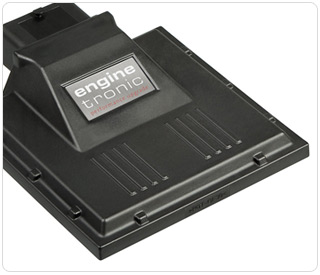 Enginetronic Modules
PowerTronic
The PowerTronic module is at the heart of our engine performance enhancement solution. Each solution is tailored to a specific model and is totally in line with the manufacturer's specifications.
Performance is boosted within the constraints of advanced safety features to ensure the lifetime of the engine and drive train.
Installation is quick and easy thanks to the 'plug & play' installation kit.
Many manufacturers already offer our products under their own label. Which is why they may well seem familiar!
EcoTronic
"Green" cars are rapidly gaining popularity in the marketplace. Not at least because of governments are strongly encouraging their use by offering car owners interesting perks such as tax exemption and free parking.
At the same time, many drivers are disappointed by the loss of drivability they experience with green cars. Especially compared to what they are used to.
Our EcoTronic solution adds drivability to "Green" cars whilst maintaining the environmentally friendly aspects.
TaxTronic
Wherever cars are taxed on their peak performance the TaxTronic helps to optimize the price/performance ratio.
Our engineers have gone the extra mile to optimize performance without compromising drivability. Don't let taxation spoil your ride!